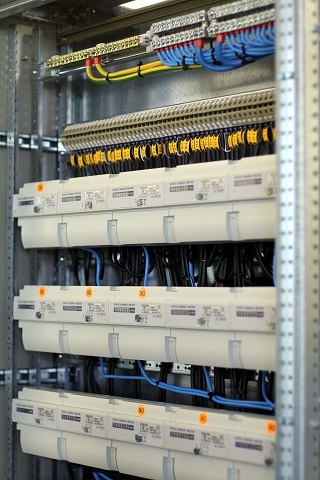 Control systems contractor coolly brings 89-unit HVAC and lighting project in ahead of schedule.
Winning the Job
Part of the White Oak Master Plan Area, Tech Center 29 is a 288,392-square-foot, four-story office, retail and flex/industrial complex situated on 16 acres along Route 29 in northern Silver Spring, Md. With three constructed phases completed thus far, the campus includes well-known tenants such as Gold's Gym, Washington Post and M&T Bank. Convenient to I-495, I-95 and a new inter-county connector interchange, in all the property offers the potential for in excess of 600,000 square feet of mixed-use development that is surrounded by new retail and development, including Home Depot, Starbucks and Chick-Fil-A.
Befitting such an appealing complex and to live up to its namesake of Tech 29, property stakeholder Finmarc Management sought to incorporate the latest in building automation systems (BAS) technology. Based on reputation, track record and proven capabilities, Finmarc, which manages more than 5 million square feet of properties in the Washington D.C. metro area, enlisted Mid-Atlantic Controls Corp. (MACC) to take on the HVAC project. MACC was officially added to the project listing on Aug. 9, 2017, with a strict completion deadline from Finmarc Management of December 1.
Assessing the Scope
There was only one set of blueprints onsite and they were the originals from when the building was built in 1988. It showed that there were a total of 71 Variable Air Volume (VAV) boxes, of which 30 were of the shut-off variety and 41 fan-powered, and three Rooftop Units (RTUs) to supply air to each of the VAV boxes serving the building's three floors. Along with the mechanical equipment, Finmarc requested MACC implement schedules within the BAS to control various lighting throughout the building.
Engineering the Application
The old VAVs were all pneumatically controlled Trane VeriTrac boxes. Fortunately for MACC's technicians, a retrofit kit was available to allow the legacy Trane plunger-style damper to be removed and replaced with a round damper with an actuator shaft. However, this meant that all the boxes had to be converted from pneumatic to electronic direct digital control (DDC). Despite it being the first time MACC techs installed this retrofit kit, the process came off without a hitch.
Meanwhile, two of the three RTUs were Trane units, but had no BAS interface. After doing some research, MACC concluded that installing a Trane BACnet Communication Interface (BCI) would allow integration of the two Trane RTUs in the BAS, thereby making it possible to adjust the programming and setup schedules to make them run more efficiently. The third RTU was a Carrier model, and Tridium offers a Carrier Comfort Network (CNN) driver enabling integration into the BAS. With all aspects of how the system was going to be configured and controlled, MACC put the fine details and some control drawings "down on paper."
Setting the Timeline
In commercial projects involving multiple tenants, MACC takes extra steps to ensure all goes as smoothly and seamlessly as possible. That includes taking the time to talk to each tenant and reassure them the process would be carried out in such a manner as to cause as little disruption to their office environments and schedules as possible. MACC then shared planned scheduling with Finmarc so the customer could see the various phases of the project and the time estimated to complete each one.
With a hard completion date for installation and programming by November 1, the control systems contractor was determined to demonstrate how it could not just meet but actually exceed the client's expectations.
Conquering Challenges
Through years of experience, MACC has learned that with any negotiated project where there are limited drawings to reference in designing the system, once the physical onsite installation process commences some unknowns are going to crop up. It's all about how the contractor deals with those variables that often makes all the difference in the final outcome of the project and the customer's ultimate satisfaction. In the Tech 29 case, the "surprise" was in the form of VAV count. As MACC's technicians moved through each floor they noticed that there were more boxes than the 71 the original drawings identified — a total of 86 VAVs to be precise.
Using its standard professional decorum, MACC presented Finmarc with the change order to add 15 additional 15 boxes at the agreed upon price to the BAS contract. What could have become problematic was handled so adroitly that progress to finish the job ahead of schedule was entirely unimpeded.
Hitting Deadlines and Delights
MACC proved itself such a sure-handed contractor that the project was wrapped up before November even rolled around. The installation and programming concluded on October 27, which greatly impressed Finmarc not only in speed of completion but especially in the demonstrated professionalism throughout all phases and quality of the end results. Tech 29 tenants sang MACC's praises as well. They were delighted how the contractor conducted itself and also how conscientious the firm's representatives were in making sure all work spaces were thoroughly tidied up.
MACC subsequently catered to the customer's schedule and convenience, setting a date of December 13, to train the end user on how to use the new BAS. At the conclusion of Finmarc Management's system instruction, everyone concurred that every aspect of the Tech 29 project had been conducted and completed to the utmost satisfaction of all parties involved.
About Mid-Atlantic Controls Corp.
MACC is an independent control systems contractor specializing in commercial and industrial facility automation systems. The firm provides multidisciplinary automation solutions to corporate, institutional and industrial customers. MACC's solutions are designed to meet client needs, schedules and budgets while developing custom solutions that frequently result in long-term cost savings. For more information, call 804-655-4917 or visit midatlanticcontrols.com.