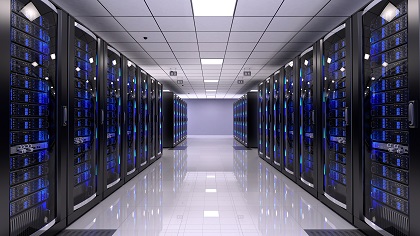 According to information released by the White House, data centers consume approximately 2% of all the energy used in the U.S. or about 100 billion kilowatt-hours of electricity. It takes an enormous amount of energy run these facilities, but it takes almost as much energy to keep all those servers cool.
While data centers across the world are experimenting with a variety of cooling techniques, the most traditional resource used is still the HVAC.
Setting Up A Data Center
Picking a location for a data center is no easy challenge. From earthquakes to ice storms, any number of disasters could be disruptive. Many data centers in the continental U.S. rely heavily on HVAC systems during summer months and some have to keep those systems running year-round. A few of the more vital data centers get set up in remote mountains or old military bunkers to ensure operations in the event of a catastrophe. Regardless of the location, all of these centers have to find ways of dealing with the heat generated by servers.
What To Do With All That Heat
While you need to be particularly careful about the air going into a facility, some companies like Google and Microsoft are experimenting with data centers that have no cooling equipment of any kind. These systems rely on air handlers that bring cool air in from the outside and push hot air out of the building, which you can read more about at DataCenterKnowledge.com.
Others want to use the heat generated by servers to heat people's homes, warm nearby offices or utilize it for other purposes. For those centers using fresh air to cool data centers, it's important to incorporate some sort of evaporative device in humid regions to ensure equipment isn't being exposed to moisture.
What About Small Data Centers?

Small server rooms and little data centers contained in the middle or basement of an office building mostly still rely on traditional HVAC cooling systems, but alternatives are becoming available. Some companies are turning to geothermal cooling, while others are finding more small-scale methods for cooling a server room with external air.
Data Center Energy Solutions
Dealing with all the heat generated at data centers can be a challenge, but success is attainable with the right building automation system, HVAC equipment, planning and ongoing maintenance. Every building and business has its own unique climate challenges, but data centers have a particular need for energy efficiency. Fortunately, as equipment and practices continue to push towards energy efficiency, the future of data centers is encouraging.
Our company has worked with data centers across the U.S. to maximize energy usage in their buildings and find strategies to reduce energy consumption while keeping servers cool. Contact us if you'd like to learn more about energy management in a large scale data center, server room or other IT space.