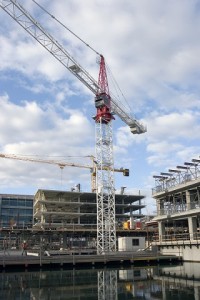 These days when controls construction professionals gather to discuss the state of the business this subject invariably comes up, namely should the design be based on an independent controls contractor or a HVAC equipment manufacturer who offers factory installed controls with factory branch office support and service?
The One-Stop Shop HVAC Temptation
This is a complex dilemma. For many contractors the single-source responsibility of the "one-stop shop" approach of HVAC equipment manufacturer-provided controls is tempting. Fewer subs/vendors to deal with, one phone call to make. Specifying engineers are attracted to it for the same reason, one phone call to make, one "vendor" to deal with. Even end-users are tempted to use this approach. Below are a few reasons why this approach is not the best, most cost-effective approach.
For the HVAC contractor that hopes to sell his after market equipment service capabilities to an end-user for whom he/she has just installed this HVAC system he might find the marketing job much harder when the HVAC equipment manufacturer argues to the end-user that he is the expert on both the HVAC equipment and the controls. End-users often feel compelled to go with the name that is on the side of the equipment and control panels. Think about it, the first time car owner almost always takes his/her car to the dealer for service, at least initially. With an independent controls contractor, at least the mechanical service contractor has a partner to team up with to offer best-in-breed service to the end-user.
Engineers are attracted to the idea of a single vendor for controls/HVAC equipment. Besides the ease of a "one-stop shop" approach when it comes to design assistance, the Engineer knows that the HVAC equipment manufacturer/control vendor will be that much more beholden to the Engineer when he/she gets the project(writing the equipment/controls specification will give them a huge competitive edge). Thus this trusted partner will be much more cooperative in getting the project past any construction/design issues that may arise. But has the design professional done his client a favor or a disservice? For a customer building a single building at a one-time location, the Engineer has delivered a significant competitive advantage to the controls/HVAC equipment vendor. In the real world the contract documents will be crammed with "gotchas" that offer little real value to the end-user and serve only to drive up the selected vendor's margin in their bid. However in a multi-building campus when he bases his BAS and HVAC equipment design around the HVAC equipment manufacturer, the Engineer risks saddling his customer with proprietary pricing on both HVAC equipment and controls on all future construction projects at his/her multi-building facility. This will add significantly to his construction life cycle costs.
In addition to all the reasons cited above for desiring an independent controls contractor on their project, the end-user must consider some other concerns when choosing a controls partner. HVAC equipment manufacturers prefer pre-packaged, highly proscribed control routines applied to their packaged as well as applied (hydronic) equipment. Often these pre-packaged programs leave the customer with few options when operating conditions change and the desire for continued comfort or energy efficiency require new control sequences. With both the HVAC equipment and controls provided by a vendor who seeks a proprietary arrangement, the end-user is left with no options if/when the performance or pricing of this exclusive vendor is unacceptable. Independent controls contractors offering control solutions available from multiple sources rely on the value they deliver to the customer for his/her loyalty, not a geographically exclusive arrangement with a manufacturer.
Benefit of Using an Independent Controls Contractor

MACC is a truly independent controls contractor offering BACnet/LON based DDC controller hardware from multiple manufacturers (Distech, Siemens, Honeywell, Johnson Controls, and American Auto-Matrix) integrated to the Tridium Niagara Framework. Tridium has become the standard for "open" non-proprietary Building Automation Systems due to its almost limitless vendor compatibility and its universal availability through multiple distribution channels. Protect your investment today and pick an independent controls contractor.
Contact us if you're interested in learning more about the benefits of hiring an independent controls contractor for BAS planning, installation, and services.