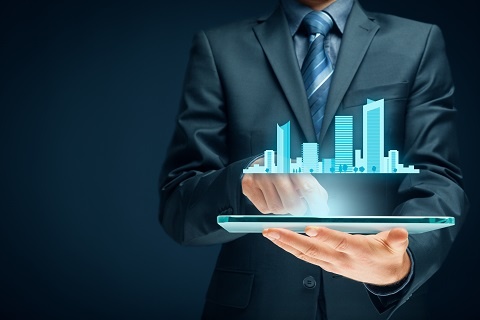 Led by North America, the global building automation systems (BAS) market, valued at $49.2 billion in 2016, is expected to reach a market value of $141.1 billion by the end of 2025, expanding at a CAGR of 11.1 percent during the forecast period (2017–2025), according to new research published earlier this month by Persistence Market Research. The global building automation systems market is segmented as security & surveillance, HVAC, lighting solutions, building energy management, and others.
North America accounted for the largest market share in 2016, the study found, and this was attributed to new technologies entering the regional building automation systems market. In terms of value, the North America building automation systems market is anticipated to more than double between 2017 and 2025, including high year-over-year growth rates throughout the forecast period.
The Future of Intelligent Buildings
So, what is driving the increasing demand for and use of building automation systems? Let's take a look at some of the findings and what they mean in terms of takeaways and opportunities for facility managers.
BAS And Regulatory Compliance
One area that will continue to drive growth of and demand for building automation systems and intelligent building technology is the ever-increasing compliance demands placed on facility managers today.
As the study found, governments of various countries are adopting regulations to minimize energy usage and waste, to name just a few, and stringent regulations are expected to be adopted by many countries in the near future, including the U.S., as buildings—including commercial, government and residential—consume a major volume of valuable energy and resources.
Energy Savings from Intelligent Building Technology
It comes as no surprise that the HVAC segment is anticipated to register the highest growth rate, or CAGR, during the forecast period, as BAS solutions reduce energy consumption and enable cost savings, especially in Industrial facilities and large commercial buildings.
An interesting finding in the research is that uncontrolled building operations lead to unnecessary energy waste of between 10 percent to 25 percent. As the researchers point out, building automation systems aid in minimizing these numbers, allowing for efficient monitoring and control of various functionalities and enabling optimization of energy consumption and cost savings.
With information technology, or IT, and physical security converging and moving away from proprietary systems to more open architectures, today's BAS solutions allow a facility manager to integrate all of the disparate systems within a building—HVAC, security, lighting, fire, etc.—into a single platform that can be managed with ease, even remotely with a mobile device.
New Construction and BAS Considerations
There are also tremendous savings that can be had by working with a building automation company early on during the planning stages of a new building, as BAS experts can help create a smart building that is future proofed to take advantage of the latest technology developments, such as smart locks, thermostats, appliances, and other IoT devices, for example.
Thinking about sustainability issues during the planning and construction stages can also lead to big savings throughout the life of a building. For example, many U.S. government, federal, state and municipal buildings are directed to meet a certain Leadership in Energy and Environmental Design (LEED) standard, which has four levels: certified, silver, gold and platinum.
Developed by the non-profit U.S. Green Building Council (USGBC), the standards include a set of rating systems for the design, construction, operation, and maintenance of green buildings, homes, and neighborhoods that aims to help building owners and operators be environmentally responsible and use resources efficiently.
BAS and Security Integration
It also comes as no surprise that the commercial security & surveillance segment is expected to maintain its dominance throughout the study's forecast period, holding about 33 percent of the global market share by the end of the forecast period in 2025. Overall, researchers found that rising security concerns and a growing need for integrated security and monitoring services are contributing to global demand for building automation systems.
Security and access controls currently accounts for the majority of revenue share in the global building automation systems market and is anticipated to hold the largest market share of more than 30 percent throughout the forecast period, including high year-over-year growth rates, according to the study. These security solutions include safety-critical (e.g. fire or social alarm systems) and security-critical (e.g. intrusion alarm or access control systems) services.
Having your security system integrated with other building systems creates opportunities for savings across all functional areas. For example, advances in data analytics today have opened up a whole new world for cost savings and operational efficiencies, giving facility managers the ability to make their buildings smarter and more intelligent over time.
New BAS Technologies
The study also found that new technologies entering the market in the field of building automation are resulting in an increasing number of users, such as facility managers, successfully adopting these solutions.
Some of the new technologies driving global market demand include web-based or cloud-based control networks supported by IoT, wireless and mobile technologies, integrated building system and facility management solutions, according to the study.
For facility managers, these new cloud-based platforms also enable the use of new technologies such as robotics, including automated ground vehicles and drones, which are also starting to play an ever-increasing role in the overall operation and security of a facility. For example, companies today are utilizing automated ground vehicles, robotics and automation within their manufacturing and industrial facilities to realize great savings. Companies are also starting to use drones to patrol outdoor property, saving money on guards and manpower, minimizing risk to and errors by humans.
The Future of Building Automation Systems
As this research firm points out, building automation systems will continue to grow in usage, as they are centralized, interlinked networks of hardware and software that monitor and control the environment in commercial, industrial, and institutional facilities.
Building automation systems ensure the operational performance and efficiency of a facility, as well as the comfort and safety of building occupants. The overall aim is to create an intelligent, effective building framework and reduce energy and maintenance costs of the facility.
Learn More About Intelligent Building Systems
Contact Mid-Atlantic Controls to learn more about building atutomation system (BAS) or to get a quote for what it would take to turn your commercial or industrial building into an intelligent building.