In every industry, people often use certain terms while giving little consideration to what they mean. One such phrase is "building automation system". How often have you heard this industry term thrown into a facilities-related discussion?
For those unfamiliar with these systems, the concept can be a bit confusing. What exactly is "building automation," and what does it include? Read on to learn more about BAS systems and how they help you manage buildings more efficiently.
What is a Building Management System?
Building management systems (BMS) are often referred to by several different names, including "building automation systems (BAS)," "building control systems," and even "smart buildings".
Whatever your preferred terminology, it consists of a distributed control system that integrates different types of building systems into one centralized location. These building control systems control the heating, ventilation, and air conditioning (HVAC).
A BMS works as a computer networking system that monitors and controls a range of other electronic and mechanical systems. These systems can communicate across many platforms, software, and languages.
A BMS comprises more than just a single rooftop HVAC unit, fans, or cleaning tools. The defining feature is that it combines all mechanical and electronic systems under one control panel for centralized management.
Types of Building Management Systems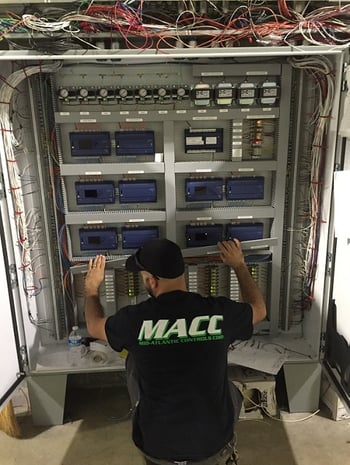 Understanding the different types of BMS systems is essential to make a more informed decision. Here's a breakdown:
Heating, Ventilation, and Air Conditioning (HVAC) Control—Manages the heating, cooling, and ventilation in a building. Tenants will enjoy a comfortable environment and good air quality.
Lighting Control—Regulates the lighting in a building by using sensors and timers to adjust lights. It works based on room occupancy or time of day.
Security and Access Control—These systems control access to a building and prevent unauthorized intrusion. Standard features include key card access, video surveillance, and alarm systems.
Building Energy Management Systems (EMS)—Monitors and controls the energy usage of a building. This system aims to reduce costs and improve energy efficiency.
Fire Alarm and Safety Systems—These critical systems activate alarms during a fire and promptly notify emergency services.
Building Management and Control System (BMCS)—A more comprehensive system that integrates several of the above systems (like HVAC, lighting, and security) into a single interface. This allows for more efficient and centralized management of a building's functions.
Building Automation and Energy Management
More than half of the large-sized buildings (100,000+ square feet) in the U.S. utilize a BMS.
Studies have shown that in the past ten years, building automation systems have demonstrated a range of energy savings. This range runs from zero to greater than 30%.
We estimate the cost savings to be even more considerable for older buildings or ones that require better maintenance.
How Are Building Automation Systems Beneficial?
A well-running building automation system has many benefits, such as:
An extensive BAS can simultaneously control many systems (such as fire and flood safety, ventilation, and security) and significantly reduce the opportunity for human error.
Ability to monitor the performance of various systems (heating, air, lighting, etc.).
Provide fail-safe mechanisms to come online when electronic or mechanical failures occur. This is especially important in dangerous, high-risk work environments.
Improve the efficiency of the other systems within a building.
An energy management system can reduce energy consumption and the various systems' operating expenses.
Prolong the lifespan of various utilities, resulting in less frequent repairs.
Provide a consistent level of comfort for occupants.
Can execute lockouts to ensure machinery only turns on when it should.
Run diagnostics to monitor temperature, pressures, flows, etc., over various systems.
A well-integrated BAS eliminates the redundancy that can occur when too much of the automation in a building overlaps.
A building control system streamlines maintenance, curbing costs by predicting issues before they escalate. It also bolsters security through integrated surveillance and access control, ensuring a safer environment.
What Are Some Systems Controlled by BAS?
You might be unaware of the numerous systems controlled by a BAS. Here are some examples:
HVAC—Building management systems run the most energy-efficient HVAC systems. This is the most common way to integrate a BAS into a building's electronic and mechanical systems.
Lighting—It can manage the lighting in a room based on actual occupancy. It can also manage lighting based on daylight versus nighttime hours.
Security System—Building control systems can determine when to engage and disengage security systems. They manage video surveillance, keyless entries, passcodes, and remote access.
Ventilation/Air Purification Systems—A BMS manages ventilation and air purification, especially in buildings where these are crucial. This system reduces the need for human supervision and on-the-spot decision-making.
Air Handlers—A BAS system is necessary for maintaining air handlers in oil refineries, chemical plants, or nuclear power plants. Mechanized air handlers have necessary safeguards and double reinforcement to ensure the safety of workers and the population in the area.
Sterilizing/Sanitizing Systems—Building automation systems are necessary to function sterilizing units properly.
Sustained Environments—A building control system is necessary for the consistent functioning of sustained environments, such as monitoring human or animal vitals. In such cases, it is best to have a fully automated process managing the environment.
How a BAS Can Help You
Building automation systems run unobtrusively in the background. If you notice them, they're not doing their job. So, how do they help you?
For Facility Managers—Building control systems can make running a facility (no matter the type of facility) easier. Such a system can help facility managers better manage energy losses and inefficiencies.
For Business Owners—Building automation can cut energy costs, extend the life of equipment (e.g., HVAC systems), and improve tenant comfort.
For Hospital CEOs or COOs —A comprehensive, well-running, up-to-date BAS is essential. A hospital can be one building or a sprawling string of buildings that must run efficiently at all times. HVAC and lighting are a few common requirements. Others are just as important—ventilation, sterilizing systems, mechanized sanitation protocols, and air purification.
For Property Managers and Building Owners—Enjoy immediate access to a single dashboard into which all other automated systems flow. In this way, you can manage lighting, HVAC, elevators, security, etc., from one place.
How to Install and Maintain a BMS System
We highly recommend partnering with professionals who specialize in BMS installations. It's not a good idea to install the system yourself to save money. The lack of experience and in-depth understanding will lead to multiple inefficiencies that negate the benefits you hope to gain.
MACC will ensure that the installation process is thorough and meets the specific requirements of your building. We'll analyze the building's current systems, create a proper design, run the necessary wiring, and configure the software.
It's crucial to ensure that a new building control system can work with any existing ones you already have. Having the professionals install it allows the new system to communicate well with the existing one and prevents lost features.
Regular BAS preventative maintenance is also a must. Periodic inspections, testing, and calibration help to ensure a longer lifespan and fewer problems. Updating the software when necessary and replacing worn-out components keeps the BAS running smoothly and efficiently.
Building Automation Systems Are the Way to Go
A well-integrated BMS system ensures improved tenant comfort, energy efficiency, and cost-effective operations. Investing in a high-quality building management system is an intelligent move with long-term benefits for your organization.
With enhanced control over your building's systems, you can expect a significant ROI. Curious about the investment involved? Discover the costs associated with a building management system in our detailed guide below.