In every industry, people often band around terms and phrases while not giving much consideration to what those terms actually mean. One such phrase is "building automation system." How often have you heard this industry term thrown into a facilities related discussion?
For those that don't work on, or deal with, these systems, the concept can be a bit confusing and convoluted. What is building automation? What does a building automation system actually include?
Before going any further, take a moment to read on and discover what exactly a building automation system is and isn't, what a BAS does, and how these systems are beneficial in the management of a commercial or public building.
What Is a Building Automation System?
A Building Automation System (BAS), (also referred to as a Building Management System or a Building Control System), is a system that controls various electric, electronic and mechanical systems throughout a building.
It is a distributed control system that integrates different types of building systems together into one centralized location. Building automation systems are primarily utilized to control the heating, ventilation, and air conditioning (HVAC) in a building, but are also used to control lighting, security and other building systems.
BAS works as a computer networking system that monitors and controls a range of other electronic and mechanical systems. It provides a means for these disparate systems to communicate across platforms, software and languages.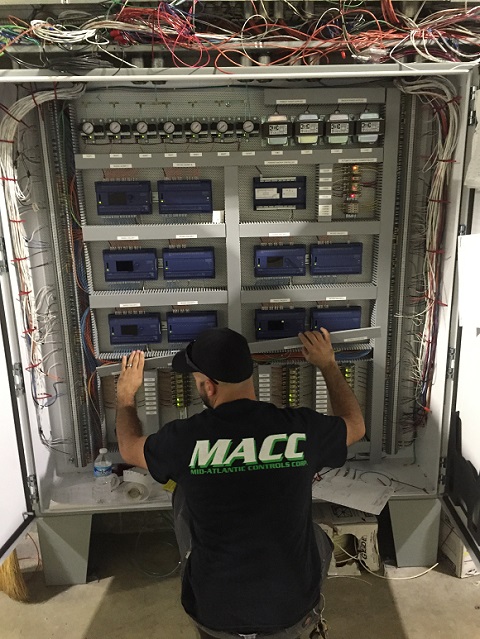 Building Automation and Energy Management
As of 2014, more than half of the large-sized buildings in the U.S. (buildings that are larger than 100,000 square feet) are controlled by BAS. Studies have shown that in the past ten years, building automation systems have demonstrated a range of energy savings. This range runs from no energy savings to a savings of greater than 30%. It is estimated that the savings is even larger with older buildings or buildings that have not been maintained well.
How are building automation systems beneficial?
A well-running Building Automation System has many benefits. Some of these benefits are as follows:
An extensive BAS can control many systems (such as fire and flood safety, ventilation and security) at one time, which diminishes the opportunity for human error.

A BAS system can monitor the performance of various systems.

A building automation system can provide fail-safe mechanisms to come online when electronic or mechanical failures occur. This is especially important in dangerous, high-risk work environments.

It can improve the efficiency of the other systems within a building.

An energy management system can reduce energy consumption and subsequently the operating expenses of the various systems involved.

It can extend the life cycle of various utilities so that you get more bang for your buck and less frequent repairs.

A BAS can provide a consistent level of comfort for occupants.

A building automation system can run

lockouts

, which ensure that machinery doesn't turn on unless it's supposed to.

It can run diagnostics to monitor temperature, pressures, flows, etc. over various systems.

A well-integrated BAS eliminates the

redundancy

that can occur when too much of the automation in a building overlaps.
What are some systems controlled by BAS?
You may not even have realized just how many systems are controlled by BAS. The following are some systems that are controlled by BAS:
HVAC.

Most energy-efficient HVAC is run by BAS. This is the most common avenue through which BAS is integrated into the electronic and mechanical systems of a building.

Lighting

. BAS can manage the lighting in a room based on actual occupancy. It can also manage lighting based on daylight versus nighttime hours.

Security System.

BAS can control when security systems are engaged and when they're not. They can manage video surveillance, keyless entries, passcodes and remote access.

Ventilation/Air Purification Systems.

BAS controls ventilation and air purification, particularly in buildings where ventilation and the purification of the air is an absolutely necessary component and, as such, should not be reliant upon human judgment and control.

Air Handlers.

BAS is necessary for maintaining the air handlers in particular industries, for example in oil refineries, chemical plants or nuclear power plants. Mechanized air handlers have necessary safeguards and double reinforcement to ensure the safety of workers and the population in the area.

Sterilizing/Sanitizing Systems.

Building automation systems are necessary in the proper functioning of sterilizing units. Much of what is done is such systems require automation.

Sustained Environments.

BAS in necessary for the consistent functioning of sustained environments. The conditions necessary often revolve around the constant monitoring of human or animal vitals. In such cases, it is best to have a fully automated process managing the environment.
How BAS can help you?
Building Automation Systems are designed to run unobtrusively in the background. If you notice them, then they're not really doing their job. That said, it's easy for industry leaders to forget just how necessary they are. So, how do building automation systems help you?
For Facility Managers

- BAS can make running a facility (no matter the type of facility) easier. Such a system can help facility managers them get a better handle on energy losses and inefficiencies.

For Business Owners - Building Automation can save money on energy, help make equipment (like HVAC Equipment and other building systems) last longer, and it can make occupants feel more comfortable.

For Hospital Chief Executive Officers or Chief Operating Officers

- A comprehensive, well-running, up-to-date BAS is essential. A hospital can be one building or a sprawling string of building that must run at efficiently at all times. Some of the common needs are HVAC and lighting, but there are others that are just as essential, such as ventilation, sterilizing systems, mechanized sanitation protocols and/or air purification. A hospital needs all these various types of automation to run optimally.

For

property managers

and building owners

- A extensive building automation system can provide immediate access to a single dashboard into which all other automated systems flow into. In this way, you can manage lighting, HVAC, elevators, security, etc. from one place.
What a building automation system isn't.
A building automation system isn't a solitary rooftop HVAC system, nor it is blowers or sterilizing instruments. What makes the essence of a building automation system is that it pulls all these mechanical and electronic systems together under one dashboard and manages them via a centralized control.
Building automation systems are the way to go.
No doubt about it, building automation systems are the way to go in the future. As businesses, organizations and industries face increasingly greater demands to ensure the comfort of their customer as well as provide service efficiently and in a cost-effective manner, then well-integrated BAS is necessary. Such systems reduce costs, increase efficiency and ensure comfort. Looking toward quality BAS can only be a wise decision that will benefit your organization in the long term.
Contact Mid-Atlantic Controls to learn more about Building Automation Systems.