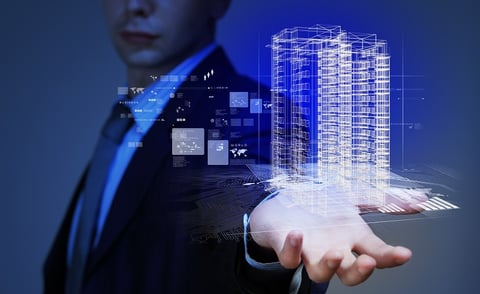 Imagine all the things you could do if you had the technology and connectivity to design a custom-made building automation system (BAS) exactly as you'd like. Are you the manager or supervisor of many facilities that sprawl over multiple locations? If so, then it's time to consider integrating BAS across your facilities. Let's imagine how an integrated system could revolutionize the way your buildings operate.
BAS just makes sense in terms of integrating the automation systems in your facilities into one framework. It's possible, however, that you have no automation system in your building. Research shows that 90% of US buildings have no smart technology because of the low return on investment (ROI) that comes with installing traditional building management systems (BMS). Building automation systems on the other hand can often provide a very significant return on investment.
Cloud-based BAS offer a good ROI.
The process and outcome of installing BAS have to be worth the expense. With the Internet of Things (IoT), what used to be costly is now cost-effective. Installing and using BAS in buildings, no matter the size, is do-able with the IoT and the use of embedded human machine interfaces (HMIs), which are Smartphones, tablets, phablets, etc.
Present estimates are that adding IoT controls to a building costs as little as $5,000 to $50,000. Another estimate states that IoT systems average $0.75 per square foot. With such low costs, you'll see a ROI quickly, especially when you see the costs of not moving to automation.
With minimal automation of HVAC, lighting and some electrical operations, mid-sized buildings can see savings of 10 to 20% yearly. For a 75,000 square foot facility with energy costs of $2.32 per square foot per year, the savings could equal $15,000-$50,000 per year. In regions that place a greater demand on systems, the savings could be as much as $100,000 a year.
BAS across multiple locations increases ease of use with IoT and HMIs.
The ease of use of your management systems will only increase with the IoT and cloud-based technologies being accessible to Smartphones, tablets, and phablets via mobile apps that work with the devices. Additionally, many companies are urging their employees to BYOD (Bring Your Own Device) so that they can easily manage systems wherever they are. With the IoT and Smart devices, the ease of use of managing automation systems just increases.
An integrated, cloud-based system allows for more customized control.
Companies are demanding customized systems that are tailored to suit their buildings' temperature, lighting, and energy needs. Lighting and HVAC systems tend to consume the most energy unnecessarily because these systems, when automated, run on fixed schedules impervious to the details that would affect whether they should be running or not. An integrated BAS system can provide granular control that's based on the details (occupancy, weather conditions, sunlight present, etc.). Managers are demanding this greater control.
Connectivity between systems provides greater control.
Now that BAS systems are increasingly wireless and cloud-based, this increases the level of connectivity between systems.
Security sensors can inform the lighting system that people are entering a room, so the lighting system turns on the lights.
Security sensors at the front entrance can inform the HVAC system that the morning shift is entering the building, so the HVAC system shifts out of standby-status to full operation.
The outdoor sensors that turn on the outdoor lights every evening inform the HVAC system of a bright day full of sunshine, which in turn, causes the air conditioner to increase its cooling.
Imagine this level of connectivity happening across your buildings. Surely as technology advances, there will be more and more connectivity between systems and facilities.
A well-integrated BAS can identify issues and problems quickly.
There's no need to troubleshoot why the air conditioning is too cold in one facility or why the ventilation system isn't running at all in another. From one dashboard, you can run a single analytics report and discover what's going on. You don't have to run analytics data for several buildings and deal with each issue piecemeal, or worse, send an employee to the various building to identify and fix the problems. With BAS, you'll have the data for precise analysis.
Energy management just got better.
Why is one facility using up more energy than your other locations? You can generate comparative analyses that show the performance of your facilities and their components side-by-side. Sometimes it's easier to spot an issue-area when facilities are lined up beside each other. BMS runs diagnostics that provide this information.
An integrated BAS across multiple locations is the future.
Automating your buildings and pulling them under one cloud-based dashboard eliminates waste and excess. Even if you have old buildings that haven't been updated and automated, they can be brought into the 21st century cost-effectively and made ready for even more changes. BMS are moving forward into the future, make sure your facilities are moving forward, too.
Contact Mid-Atlantic Controls to learn more.