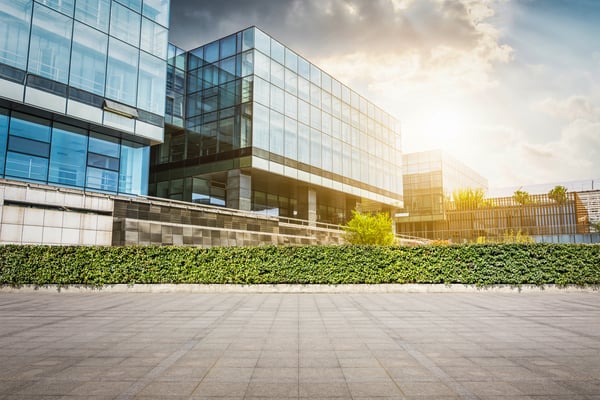 If you own or manage a large office or retail space, you already know that energy waste in commercial buildings is a huge challenge for the sector. We take a hard look at how to improve energy efficiency in buildings, including the significant advantages offered by modern building management systems.
Add Efficiency With a Commercial Building BMS
The Energy Information Administration estimates that commercial buildings account for more than 20% of all the energy used in the U.S. Of that, roughly 30% is thought to go to waste, lost by inefficient heating or cooling systems, poorly insulated buildings or transfer systems or simply being used to light or control the climate in unoccupied spaces.
In fact, the Department of Energy estimates that about 35% of the total energy consumption of any type of building goes towards heating, cooling, and ventilation.
How much does that cost? Energy utility National Grid estimates that office buildings in the U.S. spend an average of $1.34 per square foot on electricity and 18 cents per square foot on natural gas annually, up to 70% of that being spent on climate control.
Savings that Scale
If you own or manage a significant commercial facility, that all adds up to something you likely already knew: heating, cooling, and ventilating your building eats up a disproportionate amount of your budget.
In other words, achieving savings of 35% or more on lighting or security sounds great, but makes a relatively small difference to your overall costs, while incremental savings on your HVAC costs really add up.
That said, upgrading systems like lighting and security is now relatively easy with ultra-efficient LEDs and networked technology. Making wholesale changes to your building's existing heating, cooling, and ventilation infrastructure is time-consuming and disruptive and has traditionally required major capital investment that kicks significant energy savings years down the line.
Take Control of Your Energy Costs
Building management systems (BMSs) lets you take control of costs by allowing you to understand and manage your existing energy infrastructure and plan and implement changes that will deliver the most savings per dollar spent.
A modern, open BMS from a professional supplier like MACC unlocks real value by allowing you to both do more with what you already have and plan better for the future:
Track Energy Use
Your electric bill will not show the fully itemized costs of heating and ventilating your building, lighting office and powering servers, refrigerators or elevators. A BMS integrates multiple systems into a single control interface, providing device-level information on where your energy spend is actually going.
If you do not know how much your company spends on cooling the building, how do you justify spending on a more energy-efficient piece of equipment or quantify how quickly this energy management effort will pay for itself?
Tracking is the first step to optimizing expenditure and making smart investments. As a professional BMS provider, MACC offers effective open system equipment from Tridium and other manufacturers that will help you monitor energy expenditure by your existing installed equipment, no matter who originally made it.
Optimize Your Systems
BMS equipment also provides more granular control over how individual devices on your HVAC, lighting, power, and access systems work. Air handling equipment, fans, and control systems may all need improvements, alterations, or changes to increase efficiency and maximize comfort within the building.
Depending on the level of integration you choose, you will be able to tie energy use to factors such as the season, time of day, or building occupancy. Small savings on every device mean better margins on every system, which adds up to big savings across your energy budget.
Make Informed Decisions
Fine-grained, high-level data derived from energy usage can also help you identify problem areas and make smart decisions to solve them. For example, knowing that your company spends a certain amount per year cooling the building will help you decide if a particular piece of equipment will pay for itself within its estimated life expectancy.
Putting concrete data in front of key decision-makers is the best way to evaluate equipment upgrades and achieve real savings. A modern BMS will give you access to advanced data analytics that will allow you to balance investment in new or upgraded systems against expected energy savings over time.
You'll also arm yourself with powerful, persuasive information to keep your investors, clients, and tenants on board with your plans.
The Power to Change
A modern, open BMS is enabling technology, giving you the power to make the most of your existing systems and identify opportunities for further changes while providing the whole-building analytics you'll need to manage a multi-system upgrader or retrofit. Here are just some of the many ways a BMS can help you do to improve energy efficiency in your building:
Flag Minor Issues (Before They Turn Into Major Ones)
Taking notice of an energy drain on a single device is huge. Changes are an easy maintenance fix or parts replacement that, if left unchecked, could drain costs for months, or damage an entire sub-system.
Improve Your Building
Looking for tips to conserve energy? When you're tackling energy costs at scale, small changes make a difference. By breaking down your energy expenditures, a BMS can help you identify relatively cheap ways to improve your building. Simply enhancing your building's airtightness by upgrading door and window seals, for example, will boost the efficiency of your HVAC system.
Develop an Energy Plan
Create a company-wide energy use plan. Determine areas of energy waste in your building by performing an audit, and get company stakeholders on board to help improve your company's energy efficiency and carbon footprint. You may qualify for rebates from local utilities or "green building" tax incentives.
This is particularly important in Virginia and other mid-Atlantic states, where old industrial buildings are now widely used as commercial spaces. Here cold winters and humid summers make effective sealing and insulation essential to keeping these buildings comfortably in use.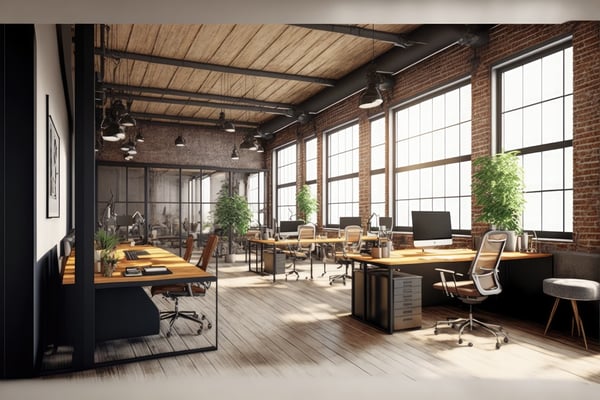 Install Smart Equipment
Devices from light bulbs to thermostats to video cameras are becoming I.P.-addressable, meaning they can be connected directly to your wireless network, rather than needing a dedicated sub-system to control them.
This "Internet of Things" approach allows sensors and devices to be connected in increasingly smart ways. Imagine, for example, a conference room that not only adjusts the lighting and HVAC when unoccupied but links to the office manager's calendar so the room is always at optimum temperature at meeting time.
Unlock the Human Factor
As a commercial building operator, you know all about the importance of knowing and working with the numbers, but you also know that keeping your occupants healthy, happy, and productive is what really adds value to you or your tenant's business.
The 2-20-200 rule reminds us that the full cost of keeping a qualified and effective employee on site is an order of magnitude more than the cost of simply supplying and servicing that space. It also shows the real value a BMS can provide in helping leverage the full potential of your staff.
Complete a Legacy Upgrade with MACC
You might be surprised at what you learn once you start automating your building's systems. Effective open BMS control equipment now lets you keep more of your legacy systems in place, enabling you to get more out of your past investments in your building while avoiding the additional cost of a complete system installation.
At MACC we are experts at helping you get the most out of your existing equipment. With an unwavering commitment to open standards, we work with leading equipment suppliers to add value and functionality to your legacy equipment through cutting-edge BMS solutions.
Contact us to learn about how MACC can help you unlock more value from your building — and from your people.