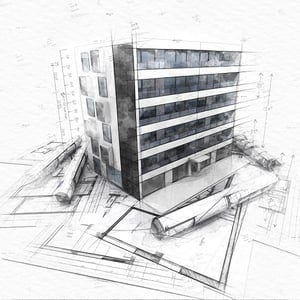 Facility managers today have access to a variety of ways to improve overall energy efficiency within their buildings.
Strategies for how to improve energy efficiency in buildings include, but are not limited to:
Leveraging modern building automation systems (BAS)
Implementing smart control over HVAC, lighting, and security
Embracing Leadership in Energy and Environmental Design guidelines
5 Strategies To Improve Energy Efficiency In Buildings
The following five strategies take advantage of the latest advances in technology to not only create the most energy efficient buildings possible but also maintain a work environment that promotes increased productivity.
1. Leverage Building Automation
Building automation systems have come a long way in just the last 5-10 years alone. This has created opportunities for both managers of a new facility as well as those with an older legacy system (more on this coming up) that they would like to tap into for greater control.
There are many benefits to a BAS and a recent study found that building automation solutions are being employed more often with good results. In fact, the study notes, "The average net energy savings per installation is about 36% for space heating, water heating, and cooling/ventilation (HVAC), and 23% for lighting."
Today's building automation systems manage more than just HVAC systems, providing additional areas to identify energy savings. By controlling lighting, security, fire alarms, and access control, for example, facility managers can optimize operations and control systems from a single pane of glass.
When it comes to legacy upgrades, be sure to work with a company that specializes in BAS installation, performance, and maintenance. There are many systems and equipment options available, and a professional can evaluate your situation, providing a path to upgrade from an older legacy system while taking advantage of new technology.
For more on what a BAS system does and can do for your facility, click here.
2. Automate & Monitor HVAC, Lights, Security
Some key areas where a BAS can help reduce energy costs are with HVAC, lighting, and security/access control.
The National Grid found in its research that "in a typical office building, lighting, heating, and cooling represent between 54 and 71 percent of total use depending on climate, making those systems the best targets for energy savings."
Having greater control over these systems using a modern building automation system can help a facility manager to maximize operational performance and make subtle, yet cost-effective adjustments based on data over time.
Alternatively, a BAS can mitigate potential problems in real-time, creating a more preventive posture.
Building automation solutions can also be tailored to the type and size of facility or facilities, helping a facility manager better oversee larger buildings or multiple buildings
3. Build More Environmentally Friendly, Energy Efficient Buildings
Whether you are building a new facility, renovating an existing building, or just looking to make your current facilities and work environment more sustainable, one valuable resource is the U.S. Green Building Council (USGBC). The USGBC is a leader in the arena of building environmentally friendly and energy efficient buildings.
The USGBC has created a roadmap with its LEED, or Leadership in Energy and Environmental Design, standards and rating system that is recognized and used around the world.
Some of the benefits of embracing LEED standards, and a more sustainable and green approach to buildings, include:
Helps create healthy, highly efficient, and cost-saving green buildings
Saves energy, water, resources, generates less waste and supports human health
Attracts tenants, costs less to operate, and boosts employee productivity retention
Certification is a globally recognized symbol of sustainability achievement
Projects pursuing LEED certification earn points across several categories, including energy use and air quality. Based on the number of points achieved, a project then earns one of four LEED rating levels: Certified, Silver, Gold or Platinum.
Be sure to work a BAS company that has LEED Accredited Professionals.
4. Use Audits & Analysis
Using data analysis and visualization, an accredited BAS company can help a facility manager realize greater savings over time. This is achieved by doing energy audits, offering recommendations based on past experiences and proposals that support your goals in regard to saving energy, boosting system performance, solving ongoing problems, etc.
This is why picking the right company to work with is so important, as these trusted advisors can provide a building operation review to determine energy management and/or environmental improvements necessary to achieve established goals.
With the abundance of data that is available, it's leverageable for real energy and cost savings.
5. Consider Employee Productivity vs. Energy Savings
With all of this talk about using modern technology to save energy and costs, it is important to factor in employee comfort and productivity when creating a strategy to save energy and minimize overall energy costs.
The 2-20-200 Rule illustrates why employee comfort is key to productivity and your bottom line, more so than lowering the thermostat.
What is great about today's building automation systems, though, is their ability to find energy savings while still maintaining a comfortable and conducive work environment that is not negatively impacted.
By optimizing and automating systems, and leveraging the latest technology, BAS can also create better work environments while savings costs.
Implementing Strategies For How To Improve Energy Efficiency In Buildings
These five strategies are all practical and attainable ways to improve energy efficiency in buildings.
In most cases, integrating a building automation system into your facility's operation will begin showing instant savings that lead the way towards achieving your long-term goals.
Learn more about how to improve energy efficiency in buildings